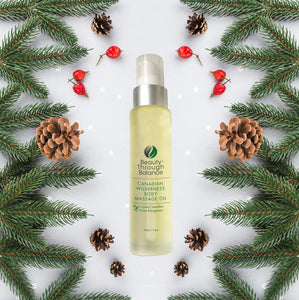 Recharge your mind & body with the newest addition to our Canadian forest evergreen based products! Let the healing powers of the forest and other potent actives work to hydrate and nourish, leaving your skin silky and soft. Inspired by the traditional Japanese healing practice of Forest Bathing & the beauty of our forests in British Columbia Canada.
To use: Simply dispense from the pump, inhale the beautiful aromatherapy and massage onto the skin until absorbed. Best to apply right after your bath or shower when pores are open, allowing the nourishing oils to soak in. For in spa use, the oil can be used as is or be diluted into a neutral carrier oil to the desired scent and glide level.
*For those with sensitive or allergic skin a patch test is recommended before full application
Key Ingredients
Canadian hemp seed oil, Coconut fractionated oil, High Oleic Sunflower seed oil, Pure Canadian Forest Evergreen essential oil blend (Fir Balsam, Fir Needle, Spruce, Pine, Cypress, Western Red Cedar) along with Lavender, Sweet Orange, and Cedarwood.
Locally ethically harvested.